Assam HS Final Exam Routine:
অসমৰ উচ্চতৰ মাধ্যমিক শিক্ষান্ত পৰীক্ষাৰ পৰীক্ষাৰ্থীসকলৰ বাবে এক গুৰুত্বপূৰ্ণ খবৰ ৷ এই বছৰৰ উচ্চতৰ মাধ্যমিক শিক্ষান্ত পৰীক্ষাত অৱতীৰ্ণ হ'ব লগীয়া কলা, বিজ্ঞান আৰু বাণিজ্য শাখাৰ পৰীক্ষাৰ্থীসকলৰ সকলো জল্পনা-কল্পনাৰ অন্ত পেলাই অসম উচ্চতৰ মাধ্যমিক শিক্ষা পৰিষদ (Assam Higher Secondary Education Council) বা চমুকৈ AHSEC এ 2022 বৰ্ষৰ উচ্চতৰ মাধ্যমিক শিক্ষান্ত পৰীক্ষাৰ দিন ধাৰ্য কৰি পৰীক্ষাৰ সময়সূচী (Routine) প্ৰকাশ কৰিছে ৷ পৰীক্ষাৰ্থী সকলৰ সহায় হোৱাকৈ প্ৰতিটো বিষয়ৰ পৰীক্ষা অনুস্থিত হোৱাৰ তাৰিখ আৰু সময় উচ্চতৰ মাধ্যমিক শিক্ষা বোৰ্ডে এই সময়সূচী খনত বিতংকৈ প্ৰকাশ কৰিছে ৷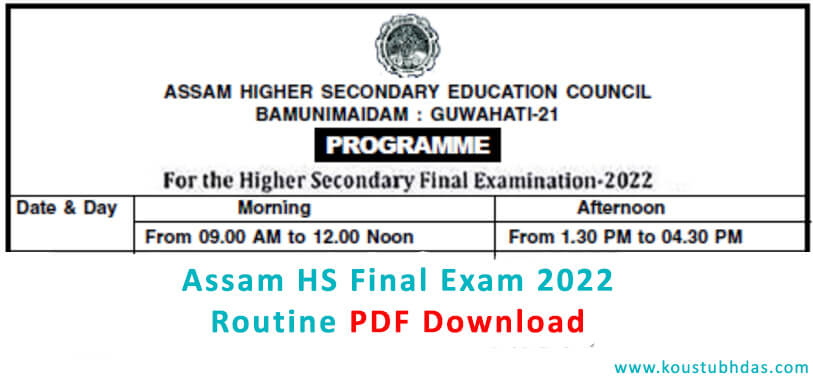 অৱশ্যে এইবাৰ উচ্চতৰ মাধ্যমিক চূড়ান্ত বৰ্ষৰ শিক্ষাৰ্থী সকলে বহাগ বিহু উপভোগ কৰাৰ পৰা কিছু পৰিমাণে বঞ্চিত হ'ব যিহেতুকে এইবাৰ অসমীয়াৰ বাপোতিসাহোন ৰঙালী বিহুটি মাধ্যমিক শিক্ষান্ত পৰীক্ষাৰ পৰীক্ষাৰ মাজতে উদযাপন কৰিব লাগিব ৷
অসমৰ উচ্চতৰ মাধ্যমিক শিক্ষা বোৰ্ডে জাৰি কৰা এই সময়সূচী অনুসৰি চলন্ত বৰ্ষৰ উচ্চতৰ মাধ্যমিকৰ লিখিত পৰীক্ষা (Theory) সমূহ 15 March 2022 তাৰিখৰ পৰা আৰম্ভ হৈ 12 April 2022 তাৰিখে সমাপ্ত হ'ব আৰু আনহাতে স্কুল পৰ্যায়ৰ প্ৰেকটিকেল পৰীক্ষা সমূহ অহা 21 February ৰ পৰা আৰম্ভ হৈ 10th March 2022 তাৰিখে শেষ হ'ব ৷ এই লেখাটোৰ শেষত উল্লেখ কৰা লিংকটোৰ যোগেদি পৰীক্ষাৰ্থী সকলে আগন্তুক উচ্চতৰ মাধ্যমিক শিক্ষান্ত পৰীক্ষাৰ সময়সূচী (HS Final Exam Routine/Time Table) খন PDF নাইবা Image আকাৰে ডাউনলড্ কৰিব পাৰিব।
Assam Higher Secondary Education Council (AHSEC) has released the Assam HS Final Year (12th) Exam Routine for the students of Art, Science, and Commerce all streams for the session 2021-22. The Assam Higher Secondary Education Council (AHSEC) has announced that Assam Board HS Exam will start from 15th March 2022 and will continue till 12th April 2022 for theory exam papers. On the other hand, the HS practical examinations will be held from 21st February 2022 to 10th March 2022 at the school level.
Therefore, the candidates of the said examination need to log on to the official website at www.ahsec.nic.in to download Assam Higher Secondary Timetable. By the way, I have also shared the link to download the Assam HS Exam 2022 timetable in PDF format. Now students can also download the Assam HS Final Exam Routine using the below download link.
Details Assam HS Examination 2022:
Name of Exam: Higher Secondary Final Examination, 2022
Class/Standard: 12th Standard
Streams: Arts, Commerce, Science & Vocational
Name of Council: Assam Higher Secondary Education Council (AHSEC)
Starting of Exam: 15th March 2022
Ending of Exam: 12th April 2022
AHSEC Routine Status: Released
Date of Routine Release: 19th January 2022
Address of Head Office: Bamunimaidam, Guwahati, Assam, 781021
Official Website: www.ahsec.assam.gov.in
Assam Higher Secondary Exam 2022 Time Table:
Date and Time
Morning Shift
Evening Shift
 
From 9.0 AM to 12.0 Noon
From 1.30 PM to 4.30 PM
15 March 2022
Tuesday
–
English
17 March 2022
Thursday
–
Modern English Langauge
21 March 2022
Monday
 
Physics/ Accountancy/ Education
23 March 2022
Wednesday
–
Economics
25 March 2022
Friday
–
Chemistry/ Business Studies/ Political Science
27 March 2022
Sunday,
Advance Sanskrit
Entrepreneurship Development
28 March 2022, Monday
–
Biology/Insurance/ History
30 March 2022, Wednesday
–
Logic & Philosophy/ Finance/ Psychology
31 March 2022, Thursday
Bihu
Multimedia and Web Technology/
Vocational Elective Paper-V***
01 April 2022, Friday
–
Mathematics
02 April 2022, Saturday
Swadesh Adhyayan
Economics/ Geography/ Home Science
04 April 2022, Monday
Fine Arts
Anthropology/ Sociology/ Salesmanship
05 April 2022, Tuesday
Music (Group B)
Computer Science & Applications/
Vocational Elective Paper-VI***
06 April 2022, Wednesday
–
IT/ITeS/Retail Trade/ Agriculture & Hosticulture / Health Care**/ Private Security / Tourism & Hospitality
08 April 2022, Friday
Music (Group C)
Statistics
09 April 2022, Saturday
–
Advance Languages/Arabic/ Persian /Sanskrit
11 April 2022, Monday
–
Business Mathematics & Statistics/ Geography/ Geology
12 April 2022, Tuesday
–
Biotechnology
*Modern Indian Languages include: Assamese, Bengali, Bodo, Garo, Hmar, Hindi, Khasi, Manipuri, Mizo, Nepali & Urdu.
*Advance Languages include: Advance Assamese, Advance Bengali, Advance Bodo, Advance Hindi & Advance Manipuri.
Music (Group A) include: Hindustani Vocal, Kathak Dance, Tabla, Violin & Sitar
Music (Group B) include: Sattriya Vocal Music (Borgeet), Sattriya Dance & Khol
Music (Group C) include: (i) Assamese Folk Music/ (ii) Assamese Folk Dance
***Vocational Paper include: General Foundation Course-II, Elective Paper IV, V & VI.
Download Assam HS Exam Routine (2022) PDF:
Download in PDF Format:
Download in JPG Image Format:
Related Topics